Latest Reviews
L'ART I  CAFÈ SITGES BARCELONA
Queer Bodies 13/06/18
 "Perfecto"  Cristina de Miguel,  l'art i cafè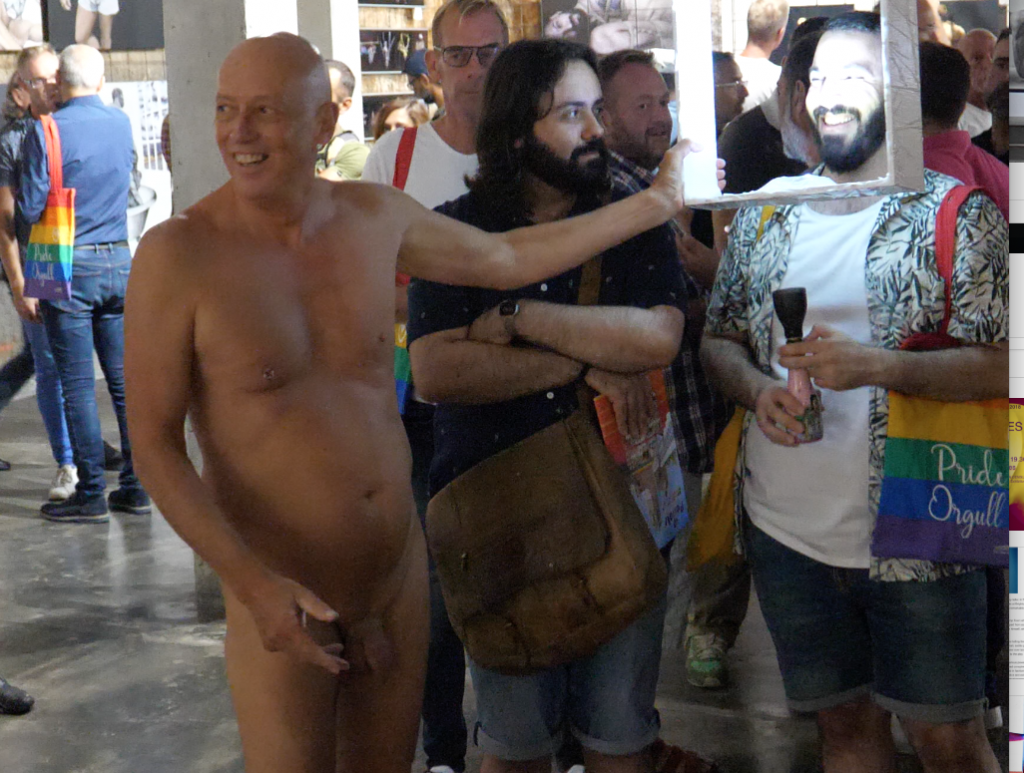 SITGES SEAFRONT 17/05/18
International Day Against Homophobia
Reading of the Manifesto
 "The Manifesto is Martin Lewton"! –Isidre Roset Juan,  L'Eco de Sitges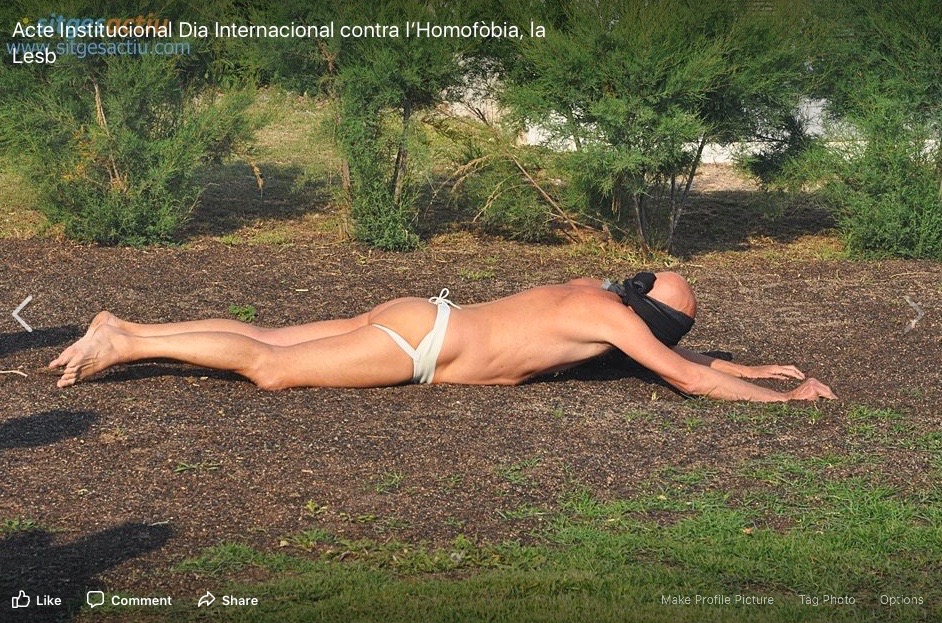 ¡BARCELONA SOLO! 06/05/18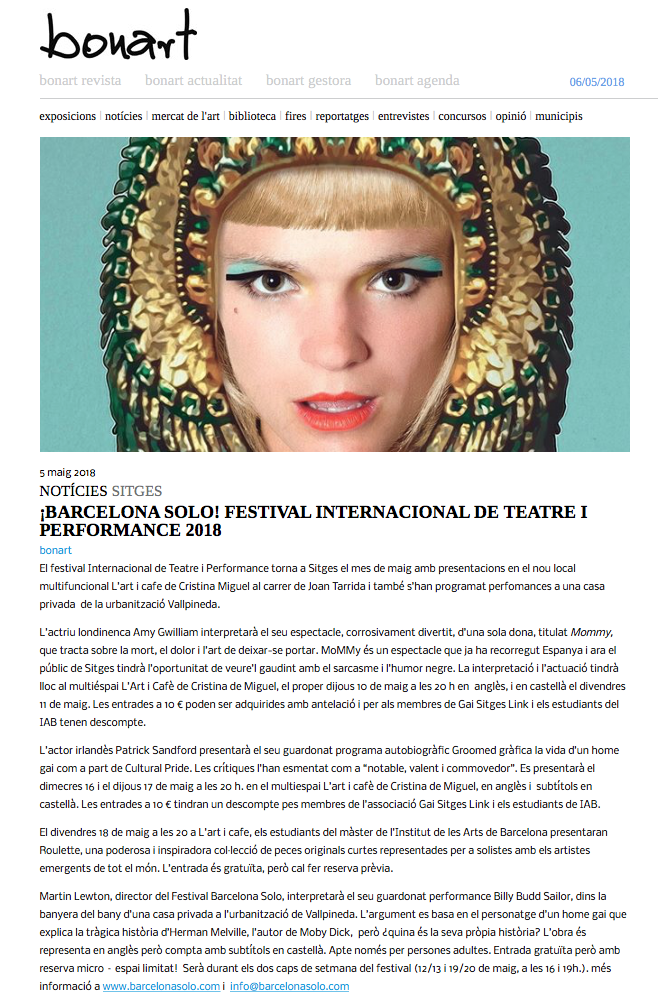 GSCENE

MIRANDO  SITGES 10/10/14
MIRANDO English Theatre in Sitges
We enjoyed a 70 minute private viewing in the front row…of a micro theatre in an apartment in the fishing village of Port D'Aiguadolc. The nudity and talents of actor Martin Lewton interpreted every one of the characters of The Tempest directed by Andrew McKinnon, a piece of theatre malleable and surreal, taking advantage of the opportunity and the full moon.
Isidre Roset i Juan Critic d'art   The Sitges Quarterly
HANDEL'S CROSS    CCA GLASGOW   GLASGAY
THE SCOTSMAN 17/10/13  ****
Doubtless a sensuous man, to judge by contemporary references to his weight and the passion-stirring splendour of his music, George Friedrich Handel's sexuality has long been a subject of conjecture, with the composer claiming that he only had time for music.
So writer Martin Lewton and director Andrew McKinnon of Theatre North have filled this void of speculation with a sado-masochistic fantasy that sublimates physical titillation and suffering to the agony and joy of creation.  Set against a backdrop of Christian propriety, Lewton strips naked, before being bound to a St Andrew's cross. Aligning his own painful process with that of The Messiah's creator, he imagines the premier of Handel's The Choice of Hercules in 1751, with 66 year old "Fat Handel" (bizarrely replete with a Yorkshire accent) lusting after the production's lead, 22 year old castrato Gaetano Guadagni.
As Lewton shares his graphic, fevered narrative, McKinnon variously scalds him with hot wax,  force feeds him, fixes clamps to his nipples, douses him in scent and whips his chest and penis.  So, not always easy to watch, but one which leaves scope for the imagination, with both possessed pursuer and manipulative quarry brought vividly to life.  McKinnons silent dutifulness under Lewton's pre-arranged instruction only further blurs the boundaries of discipline, suppression and homoerotic energy bound up with the Christian trappings, punctuated with glorious bursts of Handel's oeuvre.
Jay Richardson  www.scotsman.com
HANDEL'S CROSS 23/05/13
Dr Fintan Walsh, lecturer in theatre and performance studies in Birkbeck's Department of English and Humanities.
Thursday night saw a production of Handel's Cross take place in the recently launched G10 performance space in Birkbeck's School of Arts. Directed and performed by Birkbeck lecturer Andrew McKinnon, and written and also performed by Martin Lewton (his partner in Theatre North), Handel's Cross stages one man's recurring sexual fantasy involving the 18th-century composer.
The performance begins with Lewton removing his clothes and being bound to a St. Andrew's cross by McKinnon. He directly addresses the audience, sharing a story which takes us back to 1751, on the night of the premier of the then 66-year-old Handel's cantata 'The Choice of Hercules.'  The leading role is performed by renowned 22-year-old castrato Gaetano Guadagni.
Few details are known about Handel's personal and especially sexual life.  Historians tend to agree that he was over-weight and even greedy, as mocked in Joseph Goupy's caricature that features a grotesque pig's snout (see right). Lewton takes the ambiguity surrounding Handel's imitate life, and the notion (based on his rousing music) that he must have been a passionate man, to imagine a relationship between Guadagni and the composer, and to imagine himself as a subject of his brutish desires.
As Lewton speaks from the cross, acting as a kind of Handel substitute, McKinnon steps in at various points to attach nipple clamps, spray his chest with hot wax, and whip his body. With Handel's music intermittently flooding the space, the S&M scenario combines with historical fantasy to powerfully suggest a link between artistic pain, Christian suffering, and homoerotic desire.
'What are the attractions of fantasy in a world where bodies are bombarded and oppressed?' Lewton asks towards the end of his 45-minute performance. It's not a question he answers, but it's one that lingers after his dismount.
HANDEL'S CROSS   COBALT CAFE 06/05/13
George Frederic Handel has a strong claim to Dublin as his masterpiece "The Messiah" was premiered here. His invisible history tempts us to believe that he was gay as he was quoted as "detesting women" and remained unmarried. Handel would not expect to see the treatment of his life story in a fetish fantasy byTheatreNorth nightly in the Cobalt Cafe at 930pm. Actor and writer Martin Lewton is splayed on a St Andrews Cross throughout and is subject to the will of his dominant master.
We meet an imagination of Handel with a hilarious accent in the last years of his life. He is overweight, in pain and losing his prowess and sight. The link between this pain and the joy of the music is cleverly unpacked in this layered script in a most inventive way. Handel is enthralled by his protege Gautano the 22year old castrato and sets out to seduce him. Gautano finds the lack of sexual organs has also denied him the lack of love which he yearns for. The torment of these two musicianship is played out by our bound actor on the cross to a magnificent soundtrack of the composers glorious music. It is agony and ecstasy and Lewton's performance is a tour de force is applying the relevance of one genre to another. Handels Cross further pushes our the boundaries of gay theatre in this imagination of a life that if he was inclined to admit may have satisfied the composer himself. The nudity and fetish ritual clash magnificently with the joy of the music pushing out your own concepts of what happens when pleasure and pain collide. A fantasy and a theatrical treat for all the senses.
gaytheatre (Dublin)
BRITISH THEATRE GUIDE         Howard Loxton
BILLY BUDD SAILOR    TARA THEATRE   NOVEMBER 2012
As staged by director Andrew McKinnon, this idiosyncratic storytelling of Melville's tale of topman Budd, "the Handsome Sailor", is performed by Martin Lewton, naked and sitting in a bath.
When presented last year during the 2011 Brighton Fringe Festival, it was performed in the bathroom of a private house with an audience of half a dozen. Here it is a bath set in the centre of the small studio theatre with the audience in its usual seating, close but not quite so intimate, which perhaps changes the dynamic.
The bath, water already run, is surrounded by a litter of plastic ducks and children's toys. Music is playing that sometimes suggests the hooting of ships horns and the surges of the sea.
When Lewton appears, a towel wrapped around his waist, he begins to clears away the litter leaving out a Lego sailing ship that he puts aside (he will use it later) and for a while a plastic whale lies solitary on the bath mat, a reminder of that other well-known Melville saga. Candles are placed at the corners of the bath and lit, a toilet bag set out, a transistor radio switched on, a glass of wine is poured, the towel shed and Lewton lowers himself gingerly into the water.
Settled, he turns off the radio, thinks a moment and then begins to talk us, as Melville does, about the days before steamships when mariners would be seen on shore clustered around some "superior figure of their own class"—the "Handsome Sailor". He launches into Melville's tale of the innocent who stammered under stress, who, press-ganged into the Navy, serves under Captain Vere. He tells of Claggart, the Master at Arms, who falsely accuses him of conspiracy to mutiny and the tragedy that then ensues.
It is an intense and forceful telling. There are long pauses as the teller shaves himself, not just his beard but his scalp and then his scrotum. Music fits comfortably in these pauses, time for rumination over what has been said so far, to make one's own interpretation of the forces driving this story which the adaptation pares down to its essentials.
The nakedness and the razor emphasise this getting down to essentials and also seem to be a kind of ritual. When Lewton puts on a cock ring and unfolds a soft-core magazine of gay pinups from his wash bag, one senses what this preparation may be for, but he goes on with the story.
Fixing a metal studded leather collar around his neck as he proceeds with its later stages symbolically parallels the story. Does the teller identify with Billy's innocence, Taggart's strange desire to undo him or with the Captain's unknown communication, shut in his cabin with the prisoner? His behaviour is as ambiguous as Melville's intentions.
Like others before it this presentation suggests a homoerotic interpretation for the story. In a real bathroom this may have felt like an unburdening, a confiding; given a formal theatrical context it becomes more like a declaration—but of what? The private fears of an older, then-illegal generation of homosexuals, being arraigned by others for actions never committed? Or is the nakedness and self-exposure simply a metaphor for Billy's innocence and vulnerability?
The telling is beautifully done and perhaps there is no absolution intention in the manner of its delivery. It is enough that it makes the audience think about all sorts of possible reasons concerned with the way in which the world treats not just gay men but any outsider or person whose innocence or whose personal qualities of body or nature make them feel inadequate or awaken strong feelings they cannot handle.
NAKED HOMO LIVE
****   Anna Gross  BroadwayBaby.com
"undeniably unique theatre….a genuine pleasure to watch…compelling – I never wanted to take my eyes off him"
DOMESTIC
Alice Jones The Independent
"an intriguing and unsettling peek behind closed doors"
BILLY BUDD SAILOR AT GLASGAY
****   Mary Brennan The Herald
"Lewton's thoughtful and -provoking performance, imaginatively stage by Andrew Mckinnon"
BILLY BUDD SAILOR WINS STAR OF THE FESTIVAL AWARD!
At the Latest Brighton Festival and Brighton Festival Fringe Awards held on 30th June 2011 Billy Budd Sailor won the top award "Star of the Festival" having been the only show nominated by the judging panel.
Lyn Gardner – The Guardian
"As the evening progresses, the atmosphere grows steamy …. the truth can be as slippery as a bar of soap … the piece and Lewton's performance offer a sly take on a troubling tale"
http://www.guardian.co.uk/stage/2011/may/18/billy-budd-review
Lyn Gardner Tweet
"… in this neat show nakedness hides many secrets."
Bella Todd – The Guardian
"….. (Lewton's) apparent ease with nudity throwing the themes of guilt and concealment into (stark-bollock-naked) relief …. as he used a child's bath toys to animate his story, we began to suspect the narrator himself had secrets. Had his nakedness been a means of concealment?"
http://www.guardian.co.uk/culture/theatreblog/2011/may/17/brighton-fringe-festival-nudity?INTCMP=SRCH
"I loved hearing the bath running down the hallway…….. the frisson of voyeurism is heightened, as theatre goes where webcams dare to tread ….."
http://www.guardian.co.uk/stage/theatreblog/2011/may/23/home-art-domestic-drama?INTCMP=SRCH
Tim Cornwell – The Scotsman
"Crowding into a bathroom to watch actor Martin Lewton very naked in the bath, declaiming the rich words of Herman Melville's Billy Budd amid rubber ducks and Lego pirate boats while pulling out his hoard of gay porn, delivers a clever double-layered story of illicit lust"
http://living.scotsman.com/performing-arts/Brighton39s-festivals-leave-an-unforgettable.6776971.jp
Mark Shenton – The Stage
"….. riveting ……. there isn't a performance this intimate or surprising around"
http://blogs.thestage.co.uk/shenton/2011/05/billy-budd-in-a-bathtub-and-shentonstage/index.html
Sophie London – Total Theatre
"… spare and intimate … a triumph of traditional storytelling"
http://www.totaltheatre.org.uk/Reviews/index.html
Eric Page – GScene
"a little gem …. a perfect piece of fringe theatre" http://www.gscene.com/theatre/Billy_Budd_Sailor_Theatre_North.shtml
Mathilda Gregory – Fringe Guru
"ambitious in its intimacy….excellent performance" http://www.fringeguru.com/editorial/brighton-2011/billy-budd-sailor.html