12/03/12 BITE SIZE NAKED HOMO!
Naked Homo performed 16 times at Brighton Basement's Supper Club on Saturday…..
Six places were laid at the Supper Table with Naked Homo laid out on the table and one lucky diner, who picked up the marked condom, chose which item from the menu he would perform simvastatin 20 mg tablet.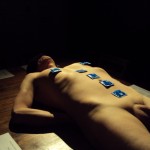 MATCH  ….shirt-lifter's souffle    TRAVEL LODGE …gaydar goulash  LIFE MODEL …..mother's boy mousse  PRIDE …bedtime surprise  BEACH…mild and bitter  DOG canine capers.
Andrew was our charming waiter and Gina volunteered for the music.
This was another great Supper Club with a packed crowd who experienced lots of great music, film and performance.  Special thanks to Abby for organising it and Claire and Mitch and all the volunteers for making it run so smoothly.