20/07/12 A BUSY SPRING!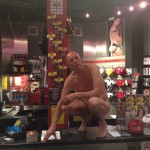 Theatre North has had a busy few months!
Martin performed his new autobiographical piece 50 times as part of Domestic at The Basement, commissioned by the Brighton Festival during May. This was quickly followed by the return of Naked Homo – 8 performances in Subline, Brighton's gay male cruising bar! Thanks to Helen, Tim, Abby, Claire and Mitch at The Basement and Steve at Subline.
A few weeks later Naked Homo opened the new Shoreditch Fringe Festival – 4 performances in Expectations, a huge leather and fetish shop. More thanks to Susanna, Brandon, Chris and Richard.
In between was a great workshop at The Basement given by Elevator Repair Service – a memorable experience!